Jan 30th of 2020, when CoVid didn't create the physical distance between the loved ones… this song dropped. I was kinda tired of 2-3 singles releasing everyday coz I didn't like the fact that I couldn't keep a track of the songs coming out! I found this song on my twitter timeline, shared by Think Music. What really made me click on the song was, the duration of the song, it runs for 5 minutes 46 seconds. If you are following me for quite sometime, you know how I love the songs that run for more than 4 minutes. It's the composers staying loyal to the music that they make, they don't give a damn about streaming and FM pressure and keep the song as it is! Kudos Nivas K Prasanna for that. The song's Charanam itself comes after 3rd minute whereas most songs end in 3 minutes nowadays. The 2nd thing is the singers names & lyricist! "Vijay Yesudas, Pradeep Kumar & Chinmayi" & "Uma Devi". I loved Uma Devi's work in Kabali, Kaala, NGK & Theeran, I was actually looking forward to her next. That's exactly when this song got released.
The song kicks with a thumping bass and beautiful flute, iced with Pradeep Kumar's voice inviting us into the song with:
"மரகத மாலை நேரம்
மமதைகள் மாய்ந்து வீழும்
மகரந்த சேர்க்கை காதல்தானா"
followed by Chinmayi
"இரவினில் தோற்ற தீயை
பருகிட பார்க்கும் பார்வை
வழிவது காதல் தீர்த்தம் தானா"
and then the song flows like a stream under frozen river. I absolutely love the way, Vijay Yesudas teases with a humming at 1:30 and just leaves the space, joins later in the 1st stanza. Usually Harris brings in multiple singers to get every line sung in different voices, Nivas K Prasanna in this song brings in 3 eccentric voices where you just don't want to miss even a milli-second of this song.
The song is lush love, lust! Totally… and the song sounds super rich with all the strings, flute! The percussions, makes us fly quite high when we are listening to this one. Nivas has beautifully constructed the song with right mix of everything. Special mention to the tabla.
The interludes & postlude especially & the 'water' drops placed like an easter egg in the song 😉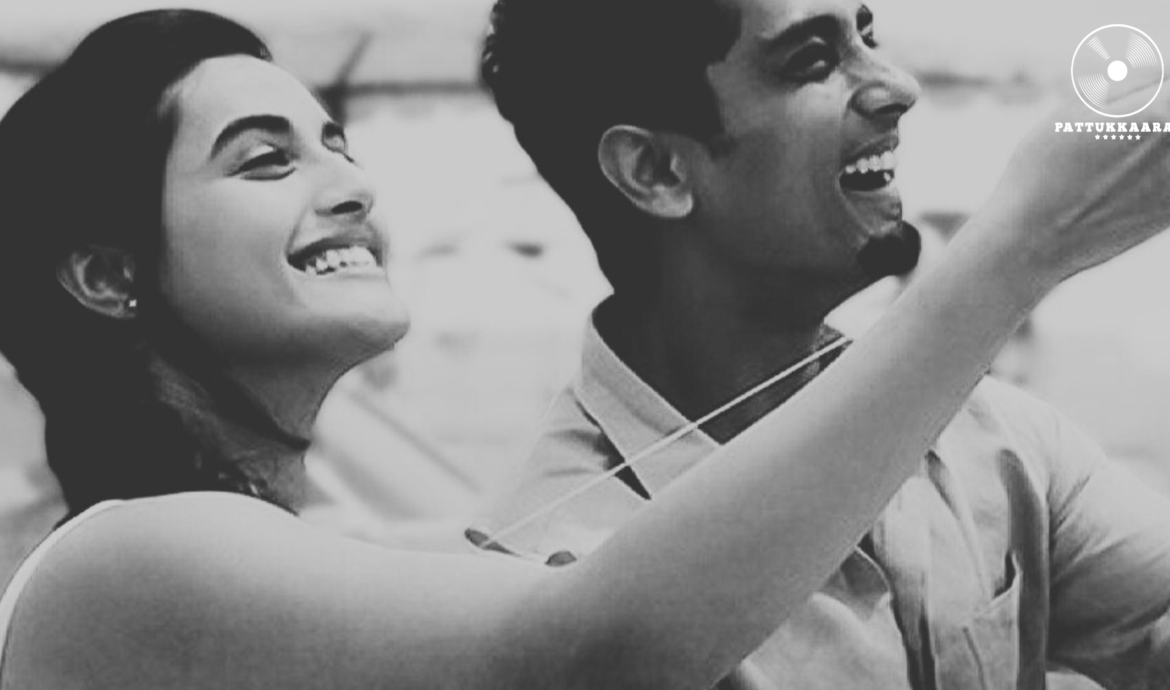 "ஒரு வானம் உடைந்து
இரு வானம் வருமா
ஒளி தூங்கும் இரவில்
பூக்கள் பூப்பதென்ன?
மழை யாவும் வடிந்தும்
மரதூறல் வருமே
ஒரு யாமம் முடிந்தும்
ஊடல் தோற்பதென்ன
நதி நீயா
துளி நானா
கலந்திங்கே
காதல் ஆகுதே!"
I just hope, they have justified the song with some eccentric visuals. It's been 3 years since the song released, you may have heard it before… If not, I take the pleasure of bringing this song to your attention! Udane poi kelunga 🙂
Ungal Piriyamaana,
Pattukkaaran 🙂