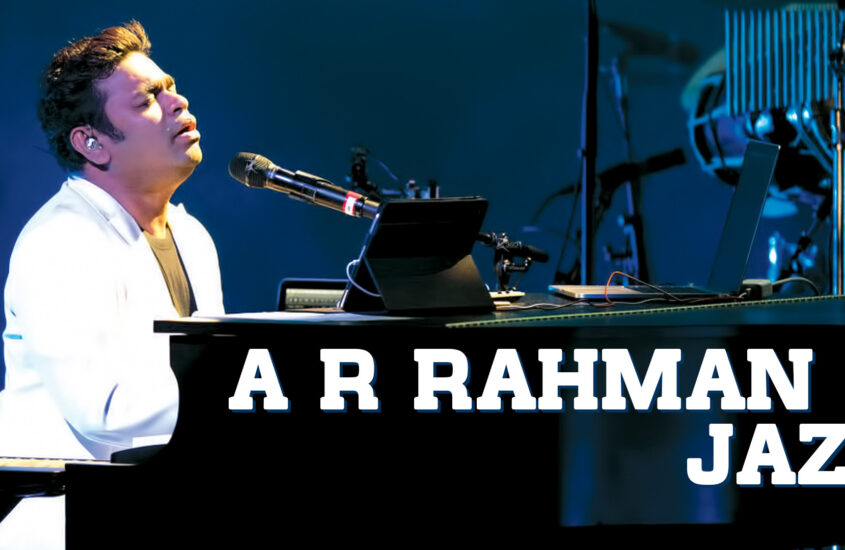 Jazz is a special genre, at least to me! Jazz was introduced to me through my roomie Naveen couple of years back. Being an average middle-class boy from TN who grew up listening to Tamil music predominantly, I had no exposure to Jazz. But, after my friend's recommendation, things changed. I went on a listening spree. Spent my evenings with Frank Sinatra, nights with Ella Fitzgerald, woke up listening to Miles Davis… Even though our Tamil film music had Jazz, Rock, Folk, Western Classical enough, I didn't have enough knowledge to separate one from the other. I started the blog stating "Jazz is a special genre", here's why.. Jazz requires special love, attention… PASSION! Jazz has a thin melody; that's the core tune of the song, the part you're most likely to remember to humm or sing. It has harmony, the notes that make the melody sound fuller. It has rhythm, which is the heartbeat of the song. But what sets jazz apart is improvisation. Crazy improvisation! Jazz has the right high, low, long, short, gravelly and clear flow of tempo!
Once I got to know about this cool genre, I wanted to explore Jazz in Indian film music & I stumbled upon A R Rahman's love for Jazz! In Netflix's "Creative Indians" show, ARR says "I was very much into jazz, and jazz is an addiction. Once you go into that, you feel like all forms are worthless, and you will feel empowered. But then your audience will become smaller and smaller. So consciously I took a decision that, I would love jazz but to make it as my bread and butter, is not fair, on all the commitments where mother is taking loans and this to buy equipment and I consciously said, to all my friends like, "I'm going to take this small step where I'll have that musicality but I'm going to try and see how much I can pull my stuff into mainstream." So, with his limited access to explore and use jazz in mainstream Indian film music, ARR has done some phenomenal Jazz tracks. I'm gonna list it all here! No best, west.. Just a bouquet of songs!
★ Sillunu Oru Kadhal – Sillunu Oru Kadhal
featured in one of the sweetest film, this is one of the jazz beauties by Rahman; Sung by Tanvi Shah and Bhargavi Pillai, penned by Kavignar Vaali with simple lyrics makes this track easily hummable!
★ Aise Na Dekho – Raanjhanaa
This one from Dhanush's bollywood debut never failed to put a smile on my face! ARR on the mic pulls off with a dreamy highschool ooze of love! The 2nd stanza with whistle is such a comforting piece.
★ Tu Bole.. Main Boloon – Jaane Tu Ya Jaane Naa
ARR on the mic again, this song is a special mention for its lyrics!
★ Hello Mr. Edhirkatchi & Vennila Vennila – Iruvar
Harini & arrangements of ARR. Especially the bass lines – Gosh! H Sridhar's work totally elevates "Hello Mr Ethirkatchi.." to a different level. It has shades of Blues whereas Vennila Vennila is organically Jazz! Sung by Asha Bhosle, the interludes are to die for!
★ Vaan Nila – Kadhal Virus
I actually missed out on this number when I started listing out for this post. Thank you Blogeswari for reminding me of this killer song.
★ I've Been Waiting – Jhootha Hi Sahi
This is in my sit back, relax, sip a coffee playlist. Such a comforting song! Also, Vijay Yesudas in this one excels!
★ Kya Hai Mohabbat – Ek Deewana Tha
I feel ARR is a bit possesive when it comes to Jazz. He tends to pick up the mic most often for his jazz compositions!
★ Mere Naam Kisie – Dil Bechara
The recent addition to ARR's jazz collection is this one from his recent release. Poorvi Kautish sounds like an ice-cream! Yes! Such a delight.
★ Geet Gaaon – Raunaq
Jonita melts as she sings this one. I'm pretty sure, you will too! Thanks B Prasanna for suggesting this track.
Special Mention: Hey Goodbye Nanba – Aayudha Ezuthu (3:42-4:12)
Hope y'll like this listicle. Jazz is an unexplored, under-rated beauty when it comes to Indian ears. If you like the above listed songs, there is a high chance of you 'loving' the genre. Please do listen. Don't blame me if you get addicted to this incredible genre 🙂
– Pattukkaaran