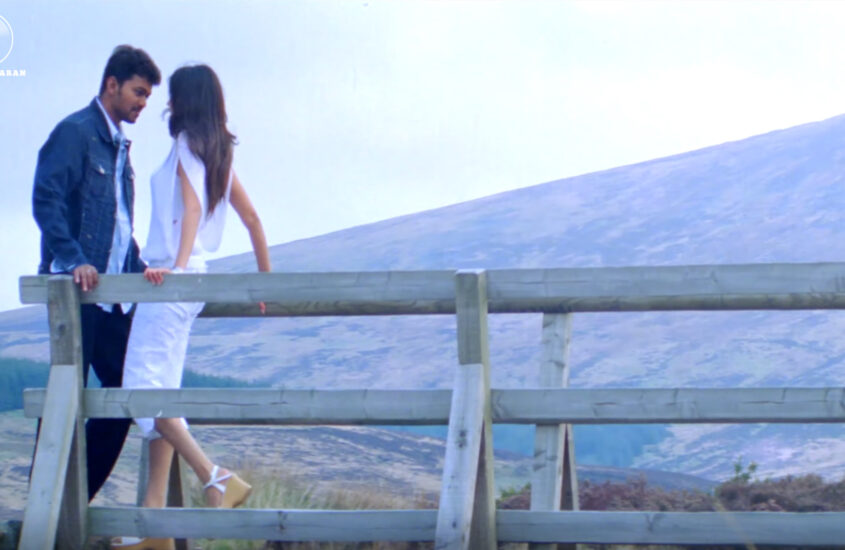 2005 it is! When life was simple… When Sun Music played some noice songs through requests they received via SMSes.. When a single MP3 player carried songs of around 25 movies… When cassettes and CDs of movie songs were available, and when they used to sell like hot cakes!
I came back to Tamil Nadu after 2 years of my life in Punjab. Like I'd mentioned earlier, I had a very less access to Tamil songs when I was in Punjab. But, all I was very well aware of, was about tamil films and their updates. I came back during the 3rd week of April 2005 – when Chandramukhi, Mumbai Express and Sachein were running in theaters, and one could find posters of these movies galore across the city!
Adding oil to the fire, Sunfeast was doing promotions for Chandramukhi and Sachein left, right & center. I collected almost all the collectibles they gave away for Sachein – the stickers, cards everything! (SUCH a fan-boy, IKRR!)
At that point in time, I only knew that Vijay and Vadivelu were a part of the movie & the girl who acted in Boys was the one who's acting opposite Vijay. I brainwashed my chithappa to take me to the film, and after a week of nagging he finally took me too!
ISTG it was soo refreshing to see Vijay in a lover-boy role after his action avatars in Madhurey and Thirrupachi. I loved the movie to bits! But one thing I LOVED THE MOST about Sachein was (obviously) this song… "Kanmoodi Thirakumbodhu…"! I rushed to a cassette shop after watching the movie, grabbed a copy of Sachein's and listened to the song on repeat till it got damaged! 😬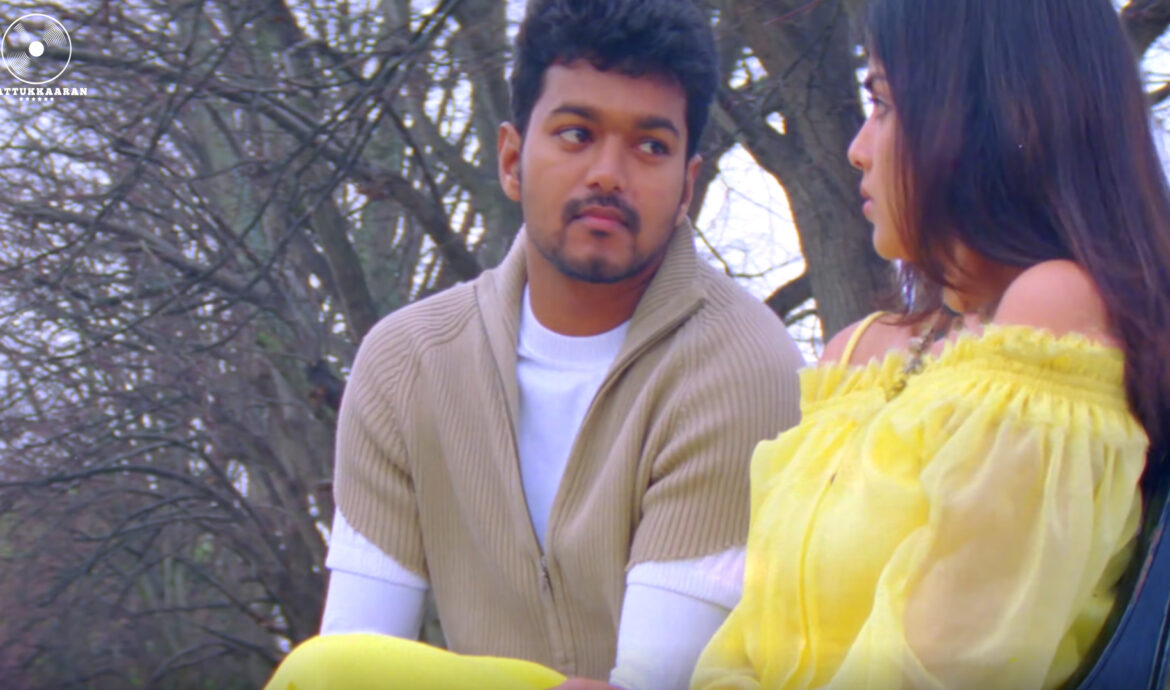 One thing I miss the most these days is the feel of 'owning the music' through cassette/CDs. Nothing matches a physical copy… NOTHING! Streaming will never give me a satisfaction of that kind 🙁 [A petition to Bring back cassettes and CDs, plis?]
This one's penned by my most favorite, Na Muthukumar, (if you ask me I'll definitely quote the entire song as my favorite lyrics) and sung and composed by Devi Sri Prasad. This is his 1st big break in Tamil (Though he composed Kattu Kattu from Thiruppachi). Thanks to Vijay's ears for good music he onboarded DSP for this breezy rom-com! Not just this song, he elevated this film with soulful score.
"Kanmoodi Thirakumbodhu…" opens with a beautiful prelude that leads to foot-tapping rhythm that makes your heart pound (in a positive way, ofc). Also, doesn't it put a smile on your face when DSP sings
"தெரு முனையை தாண்டும் வரையில்
வெறும் நாள் தான் என்று இருந்தேன்
தேவதையை பார்த்ததும் இன்று திருநாள் என்கின்றேன்"? 😃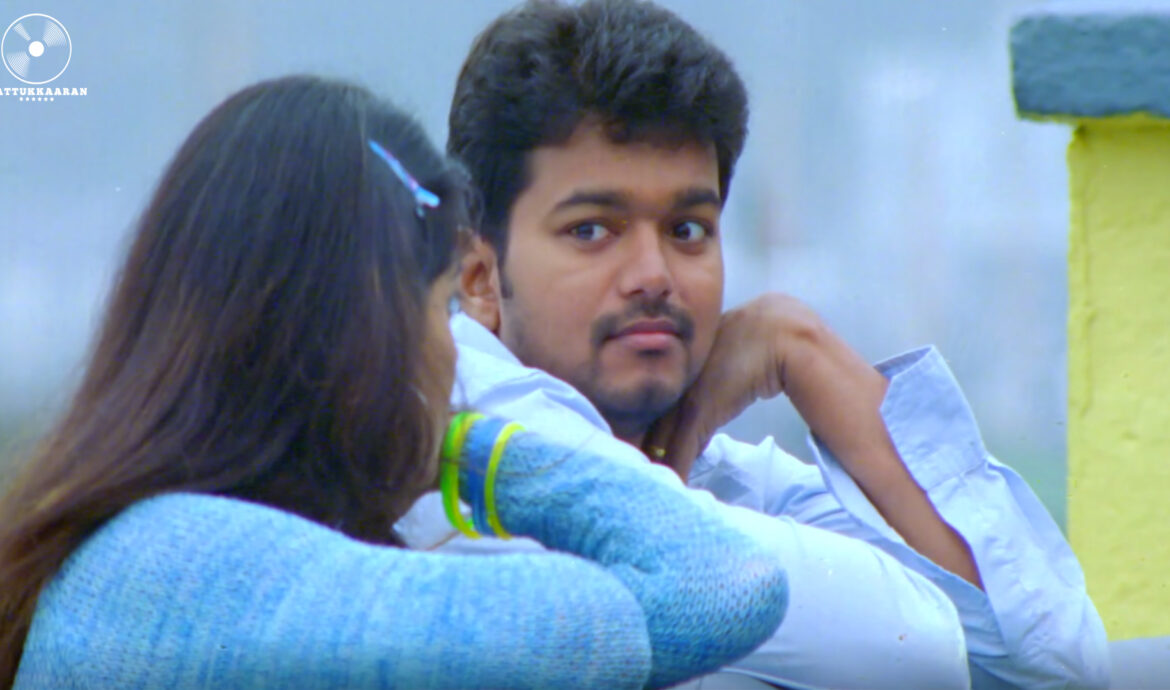 The whistles & mandolin in the 1st interlude are such a charm! The way DSP croons
"நீ என்னை பார்க்காமல்
நான் உன்னை பார்கின்றேன்
நதியில் விழும் பிம்பத்தை நிலா அறியுமா?"
just melts me every-damn-time and this was my anthem line for all my one-side crushes for a long time 😀 Special mention to the strings in 2nd interlude!
Here goes my favorite line in the 2nd stanza of the song…
"பூகம்பம் வந்தால் கூட
பதறாத நெஞ்சம் எனது
பூ ஒன்று மோதியதாலே
பட்-என்று சரிந்தது இன்று"
Picturised somewhere abroad, by Jeeva and cut by V T Vijayan, this song is the perfect mix of music and visuals, and is definitely one of my favorites that I'll pick to watch just for the visuals!
Writing this today, as Sachien celebrates 16 years of its release, makes me feel old and jealous of Vijay because he STILL looks the same 🙁 Vidunga… Vayasaayiduchu enakku!
கண்மூடி திறக்கும் போது கடவுள் எதிரே வந்தது போல
அடடா என் கண் முன்னாடி அவளே வந்து நின்றாளே
குடை இல்லா நேரம் பாத்து கொட்டி போகும் மழையை போல
அழகாலே என்னை நனைத்து இது தான் காதல் என்றாலே 🙂
Go, jam the song now 🙂
See you soon in another new blog post… Much love!
– Pattukkaaran
PS: Wanna thank John Mahendran for Sachein 🙂 THANK YOU SAAR!