Kannukkulle Unnai Vaithen Kannammaa!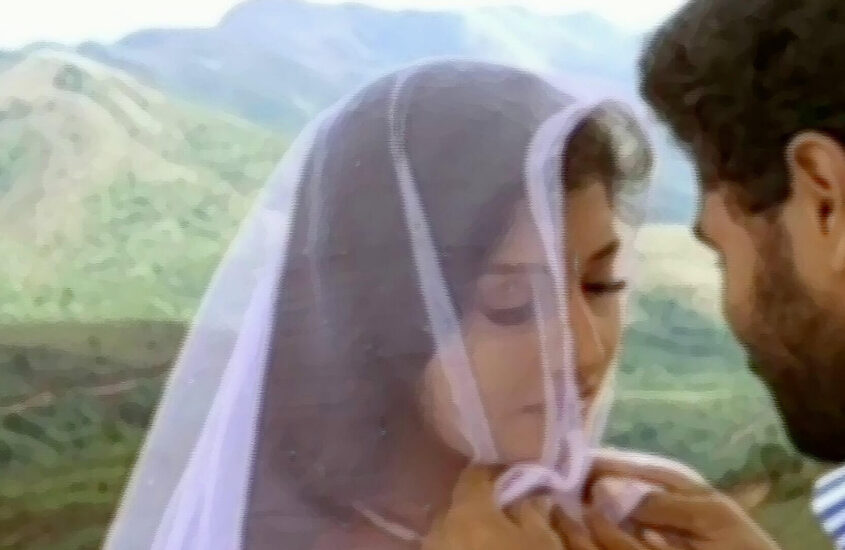 So, here goes the 1st post about a track by S A Rajkumar. Got this song on your headphones ON?
This film, 'Pennin Manathai Thottu' was Ezhil's second film after his blockbuster 'Thulladha Manamum Thullum' which had Vijay, Simran in the lead roles; The film and music, both were a huge hit and he collaborated again with S A Rajkumar for this film.
I don't have a huge memory that connects me with this film when it released except for this song. Later on, I guees this one became K TV's favourite because it was broadcasted often and I ended up watching this film whenever they telecasted it. I'm a huge fan of 'ACTOR' Prabhu Deva. I admire him more for his acting than his flawwwlesss dancing skills. I still believe that if he had continued acting, he'd have given a tough competition to Vijay and Ajith now. I have this memory of crossing a cassette shop on my way to school, where I listened to this "Kannukkulle Unnai Vaithen Kannammaa.." almost daily during the early days of its release and also the local autos used to blast this melody in the maximum volume possible.
The soundtrack features 2 versions of this song. One by Unni Menon & One by Unni Krishnan. My favorite is Unni Menon's version though (With all due respect to Unni Krishnan :') ). Maybe because of repeatedly watching the movie and continuously listening to that version. Also, this song never has skipped my playlist without atleast 2-3 repeats till date.
Penned by Muthu Vijayan, this one stands out to me for its lyrics (OBVIOUSLY! 🙈) My most favorite line from the song is..
கண்ணாக கருத்தாக
உனை காப்பேன் உயிராக..
உனை கண்டேன் கனிந்தேன் கலந்தேனே
அட உன்னுள் உறைந்தேனே..
இன்று என்னுள் மாற்றம் தந்தாயே
உனை என்றும் மறவேனே..!
I don't understand why few 90s kids troll S A Rajkumar. I mean.. DUDE! Wait! Breathe! Music evolves & so do we! Accept it or not, he was the undisputed King those days & the Saviour of many small budget films. You may be a fan of Raja, Rahman or anybody else. But, if you are a 90s kid and you don't relate yourself with S A Rajkumar's songs even a litttttle bit, are you even a 90s kid?
Okayyyy. I hope this post made you revisit this earworm. See you all soon with another one from my "favourites" collection! 🙂 Please write me your memories associated with this song. Would be really glad to read'em! 🙂
Yours truly, Pattukkaaran 🙂