Mehandi Circus – Not a Music Review!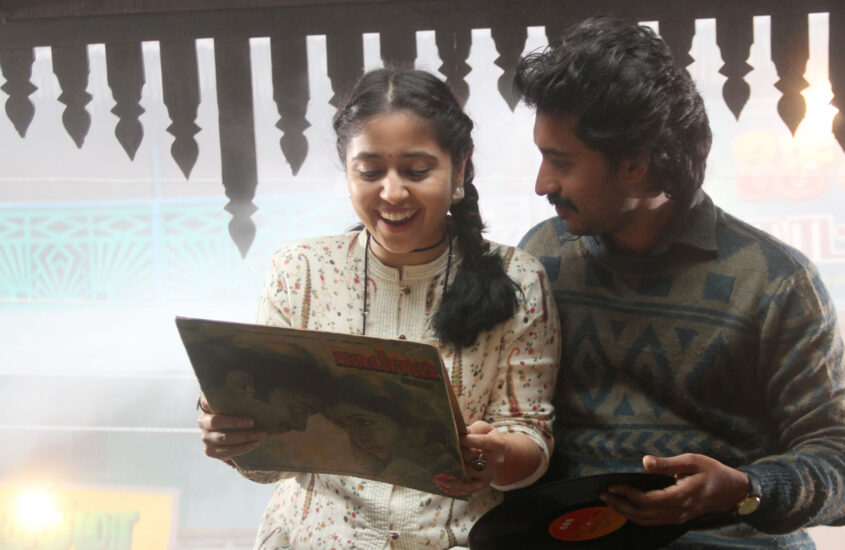 Have you ever scheduled yourself to wake up listening to a song on your headphones? Like, have you slept with your headphones plugged in, putting a song on loop? So that when you wake up the next day, that specific song would still be playing, putting a smile on your stupid-yet-awesome sleepy face?
I planned to wake up to "Veyil Mazhaye.." from Mehandi Circus last night. Was awake till 5 am yesterday but managed to put this song on loop and dozed off.. woke up at 7 listening to these lines from this beauty..
'ஆயிரம் முகங்கள் பார்க்கிறேன் நாளும்..
உன் முகம் எங்கே பார்ப்பேனோ ..'
& that did put a smile on my ugly face. I think y'all should try this too!
Let's jump into the topic now? "Mehandi Circus" is one album that I've looped maximum number of times this year. It tops my playlists on JioSaavn, Spotify, Apple Music list & ofc, in my Lossless Player too. I follow Sean Roldan's work closely, since his Indie days. I'm pretty sure I'm one of the very few people who were super excited when he signed 'Vaayai Moodi Pesavum' (his debut as a film composer). I loved all the songs from "Joker" and "Pa Paandi" and assured myself that I'm IN for a feast when I knew Mehandi Circus is a period film that celebrates Ilaiyaraaja through-out. Click here to listen now
The feast started off with 'Vellattu Kannazhagi..' the 1st single from the film, which was released on Dec 26th, 2018. Sung by Sean Roldan himself, the song's josh is quite exquisite! The 2nd Single from the album is 'Aavoji..' Sung by Santhosh Narayanan, sounded soo Amit Trivedi-ish to me, but didn't really appeal to me on the 1st hearing. Later the tune did grow on me. Let me tell you something, I hate the 'Single' culture. It was exciting in the early days, when Vaanam, Mankatha had them. But now every single movie releasing a Single is actually boring. It doesn't really give (at least to me!) the satisfaction of listening to a full album at a stretch.
I waited for the album launch & finally it happened on Jan 25th this year. 'Veyil Mazhayae..' is the track, which treated my ears 1st. This astonishing melody is a package of the extremely comforting voices of Vignesh Ishwar & the harmonica of Srinidhi & Susha. "Astonishing" is the word to express how the song is! Then comes, my most favorite 'Kodi Aruvi..' – The Ilaiyaraaja'ish melody with a rain of beautiful strings & lovely interludes that will drench you with soo much of love. Everytime I cross the portion where Pradeep Kumar sings 'சாராயம் இல்லாம சாஞ்சேன்டி கண்ணால.. கூழாங்கல் சேராதோ செங்கல்ல' I take a pause and utter 'Pppppppppah'.
Then there is "Siragi Un Sirippaala.." another genius composition by Sean Roldan. I admire the way the song has been arranged & the 1st interlude made me think "YOU BEAUTY!" out loud. The track, 'Love Polladhadhu..' sung by Vijay Yesudas is one perfect 'Idhayam Murali' song. I get dazed with the prelude itself. Post the release of the movie, they released 'Mayilpola Ilavarasi'. Sung by Srinidhi S, this one sounded very familiar to me!
"Mehandi Circus" as an album, stood out for me due to the LYRICS. Hands-down to the best lyrics in this year so far! Each line from every song actually makes sense, touches and cleanses the soul. Penned by Yugabharathi, Saravanan Rajendhiran & Ekadesi, this album celebrates Love! 🙂 I'd like to quote few of my favorite lines from the album..
♪ வெயில் மழையே
வரிகள்: சரவணன் ராஜேந்திரன்

செல்ல குளிரே,
தங்கத் தனலே,
அந்தி ஒளி நீயடி..
ஒற்றை கனவே,
சுற்றும் நிலவே நீதானே!




♪ கோடி அருவி
வரிகள்: யுகபாரதி





நள்ளிரவும் ஏங்க
நம்ம இசைஞானி
மெட்டமைச்ச பாட்டா
பொங்கி வழிஞ்ச.. <3




♪ சிறகி உன் சிரிப்பால
வரிகள்: யுகபாரதி

வெல்லக்கட்டி உன்ன கண்டா
விக்கல் வந்து தவிக்கிறேன்..
வித்தைக்காரி செஞ்ச வித்த
சாதி சனம் மறக்குறேன்..
எட்டு வெச்சு நீயும் போகையில்
புத்தி கெட்டு போறேன்..
கட்டுப்பட்டி ஆன ஊருல
தள்ளி நானும் வாரேன்..




♪ வெள்ளாட்டு கண்ணழகி
வரிகள்: யுகபாரதி

பொண்ணே இல்ல
இவ ரோசா குடம்..
கண்ண மூடாம
நான் பார்த்து பாராட்டிடும்
நல்ல காதல் படம்..
ஹே பொய்யே இல்ல
இவ கோயில் ரதம்..
ஒத்த பார்வைக்கு முன்னால
என்னாகுமோ இந்த சாதி மதம்?




But, you know what sucks? People don't encourage such good music. It is disappointing to see the number of views / streams the album has garnered. But, whoever listened to this piece will know how precious this gem is! My office intern gives me a weird look whenever I play this album. I am sad that the next generation will never get to experience and celebrate good music. It's a curse to mankind. I think we should all turn back and listen to some real, noise-free music. It's hightime we start. Also, You.. If you haven't listened to this album yet, spend 25 minutes of your time & listen to it right away. I'm sure, you won't regret! 🙂
I really hope this post made you listen to Mehandi Circus. If it did, write to me. You can send DMs on Twitter, Insta and FB. I'll be really happy if you listened to it after reading this piece. See you all soon! 🙂
Yours truly,
Pattukkaaran 🙂