When I came to Chennai in 2014, I didn't have a TV in my room for 6 months. My phone was the only source of entertainment during those lonely nights. I choose to escape with films every night in theaters. I watched almost 4 movies every week in theaters. I watch Telugu films in Casino and Hindi films in Ega. These theaters were filled with native language crowd and the joy of watching a film with native crowd is something else. Back then not every non-tamil film had subtitles. So, it was a lil difficult for me to understand A-Z of the dialogues.
On one such escape night, my friend & I watched "Dum Laga Ke Haisha" in Ega. I had zero clue about the film, I just entered the hall like a white paper. The theater had 30 odd crowd. I panicked a lil, but I have never walked out of a film no matter how bad it is. I took it as a challenge and sat, to my surprise… I loved everything about the film. The leads, plot, nuances, dialogues and YES – – – THIS SONG!
Ye Moh Moh Ke Dhaage
Teri Ungliyo Se Jaa Ulje 🥺
(these threads of attachment,
have got entangled in your fingers)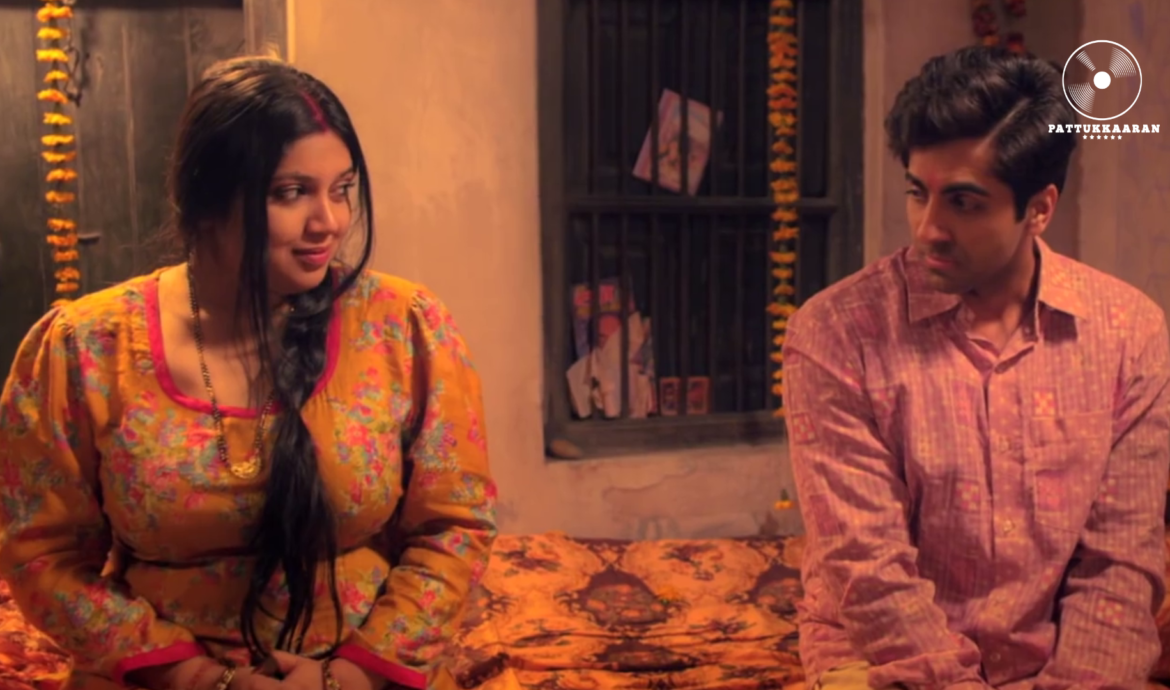 The song opens with a simple guitar strum, accompanied with beautiful voice of Monali Thakur! Breezy flute and shehnai glimpse like a red carpet into a swirl.
The way Monali sings
"Hey rom rom Iktaraaaaa… Hey rom rom Iktaraaaaa… Zo badalon se guzure!"
Gulped me completely into the song… The song has "Theeradha Eakkam (தீராத ஏக்கம்)" all over it. Pictured on the leads, the song is placed on a skeptical situation and I don't think this song will fit in any other film or situation. The 1st Interlude with magestic shehnai elevates the yearning. Monali sung this one as though she is going through some tough time in her personal life. The simple rhythms and percussion give enough space for the lyrics and voice to be heard crystal clear. The guitar's riff throughout the song is just LOVE! Composed by Anu Malik, Penned by Varun Grover… This track is a perfect marriage of all things musically genius.
The male version of this song is crooned by Papon & that is equally beautiful as this one!
Do me a favor!
Play this song in headphones, close your eyes and listen. JUST LISTEN. Concentrate on the song and listen. Observe the guitar riff close. The flutes, shenai, the texture of Monali's voice. I'm sure you'll love this one.
Do write to me if you liked this song. Also, catch this video where Monali & Papon sings the song live on a stage!
I'll come back soon with a new blog post!
Take care, much love…
Pattukkaaran 🙂