Dear Vineeth Sreenivasan 😊
Dear Vineeth etta,
I hope you are doing good & rejoicing the success of Hridayam. I've been wanting to pour this out since the minute I watched Hridayam. Here I am!
Even though I spent better part of my growing days in Tenkasi, which is around 20kms from Kerala border, I've never watched any Malayalam film. Back in the second half of 2012, with the help of my Malayali friends online, I got exposed to 'Thattathin Marayathu' & with the available BSNL Broadband at that point of time, I downloaded a 700MB DVD Rip of the film. I felt guilty for watching the film on a pirated copy (I had no option though, this was much after the film was out of theaters). It took 5 hours for me to download the movie with 20 seeders. I closed all the tabs so that the torrent will download li'l faster. As soon as the download was done, I opened my VLC Player to watch the film… Since the censor certificate followed by
'thanks to all the special people in my life… – vineeth sreenivasan'
the film got me glued to it. I had no clue, the film will open a whole big window of Malayalam films for me. Thanks to you.
Vinod, Aisha, Abdu, Abdul Rahman, SI Prem Kumar everyone was familiar to me. The locals, emotions, MUSIC! What not? I loved everything about the film & extensively googled about Vineeth Sreenivasan & crew. I wanted to contribute something for the film, I ended up purchasing 'Thattathin Marayathu' album on Flipkart Flyte. I looped the album for the next 6 months, like crazily. Later I found that, two of my most favorite songs 'Iru Vizhiyo' from Pirivom Sandhippom & 'Aval Appadi Ondrum Azhagillai' from Angaadi Theru were sung by you! Needless to say, I've obsessively heard those tracks 🙂
I moved to Chennai, watched Oru Vadakkan Selfie (V wrote this film), Jacobinte Swargarajyam (V's directorial)… But, I went a step ahead & I watched the films – Ohm Shanthi Oshaana, Kunjiramayanam, Oru Muthassi Gada, Thanneer Mathan Dinangal coz these had you playing some role. Now typing these, I'm realising that I'm being a Vineeth Kanni [Kanni (Tamil Internet slang) – Die hard fan] totally!
In 2020, the announcement of Hridayam sneaks on the web and to see Pranav, Kalyani & Vineeth coming together for a movie just made me go 'woooooo!'. It felt lil sad to see 'Hesham Abdul Wahab' replacing your regular 'Shaan Rahman'. I was looking forward to see what Hesham brings to your table. Even though he had few releases before Hridayam, I wanted to listen to Hridayam 1st. I believe that when it comes to Music, your instinct can never go wrong! But, my wait to listen to Hesham's work got li'l longer with Covid and its waves. One fine day, Santhosh anna (Think Music) called up and told me "We've aquired the music rights of Hridayam and the songs sound out of the world". Now the excitement just pumped in 5th gear and I counted my days until I could listen to the album. Think Music announced its association with Hridayam, bringing back cassettes and CDs for the album. I've been a BIG fan of Analog music and I preserve my 3 cardboard boxes full of CDs, Cassettes like they are Diamonds.
The 1st glimpse from Hridayam "About Darshana The Song" released & my anticipation level grew further. On October 25th, I listened to "Darshana" & it BLEW.ME.OFF! The visuals just took me back to the days I listened to Thattathin Marayathu album on loop. The music was fresh af, wanting me to immerse in it. Sung by Hesham Abdul Wahab & Darshana Rajendran, I didn't understand a word when I heard it for the 1st but, the song grew like wildfire. Usage of middle eastern instruments like Oud, Qanun, Duduk & Baglama added a special flavour to the song. The song is a perfect marriage of Indian classical & Middle eastern Instruments. The song gives me deja vu. The song makes me want to fall in love all over again (Ofc, with my wife).
The 2nd song that came out from Hridayam was "Arike Ninna" – the song that emotes the anger & frustation of the lead. The song evolves and travels in various genres to strike the right emotional chords.
The next song is "Onakka Munthiri" – an acapella number that gives the fully crushy-crushy blushy feels. I bet one can't finish the song without a smile on their face! Sung by your Wonder Woman (Divya Vineeth) & accompanied by beautiful additional vocals, the song is as sweet as my favorite Ada Pradaman. 'Kural Kekkutha' came out next, a Tamil song from the film that celebrated Chennai & its people. You've poured your love for Chennai out with this song!
You managed to pull Prithviraj to sing 'Thathaka Theithare'. A trivia for the readers: Prithviraj has never sung for any other heroes but himself. But, who will deny Vineeth ettan's offer!?! The song is tailor made for Prithviraj, his voice sits on it like it's super perfect. The breezy trumpet throughout the song is apt for anyone to have it on their headphones and go for a 'gethu' walk.
I love the way, you guys decided to release Jukebox as Side A & Side B. The Side A opened with the beautiful "Manasse Manasse…" sung by you! The track has an interesting prelude, a railway announcement of Mangalore Mail and lush of strings. With "Mukilinte…" by KS Chitra, I just wonder when will her voice age!?! It's soo fresh like she is 18 & just debuted. The voice in this song penetrates our ears with pain & longing. "Minnalkkodi…" is an interesting song full of energy, josh and Chitra amma's humming in this one is the icing on the cake.
Back in those days, the time we had to wait to change from "Side A" to "Side B" was just 10-15 seconds. In the digital era, after listening to such beautiful songs on "Side A" and having to wait for a few days for "Side B" was PAAAAAIN.
But then I got "Side B", and boy did it excite me! "Pottu Thotta Pournami…" (Bindi clad moon) it's a metaphor of a woman's beautiful face to that of the moon, the song falls sweet on the ear drums and the Hindustani classical blends right. The "Nagumo" & its revivals placement in the album is a beautiful ode to Tyagaraja. The western & Indian classical fusion "Puthiyoru Lokam" sounds like a Malayalam song by Coldplay & in the Jukebox's description about the song they've mentioned the same 🙂 The sufi "Bas Kar Ji" came to me as a total surprise! The song calms me on a different level & I didn't want it to end. Then, there's "Hridayam Theme" – it's the perfect tease of what the album is about!
My order of Hridayam CD & Cassette arrived few days ago & I'm sure I'll celebrate it and devour it for years!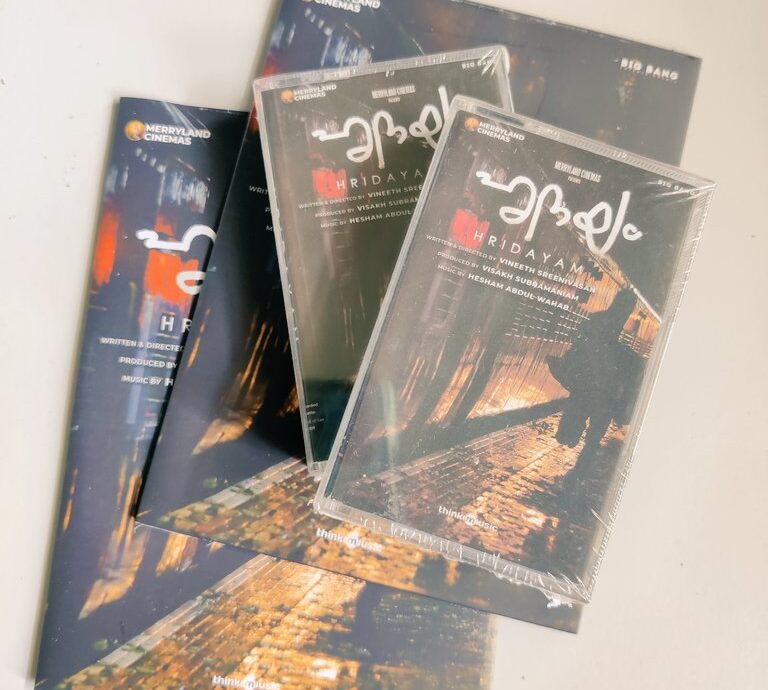 I just want to thank you Vineeth etta. Thanks for Hridayam, the music, the love & the experience of analog attached to it. Stay the same. You & Divya have given me major couple goals. I blush when I read your photo captions with/about her.
PS: I really love your Instagram feed.
Much love,
Sudhir Viyas D aka Pattukkaaran