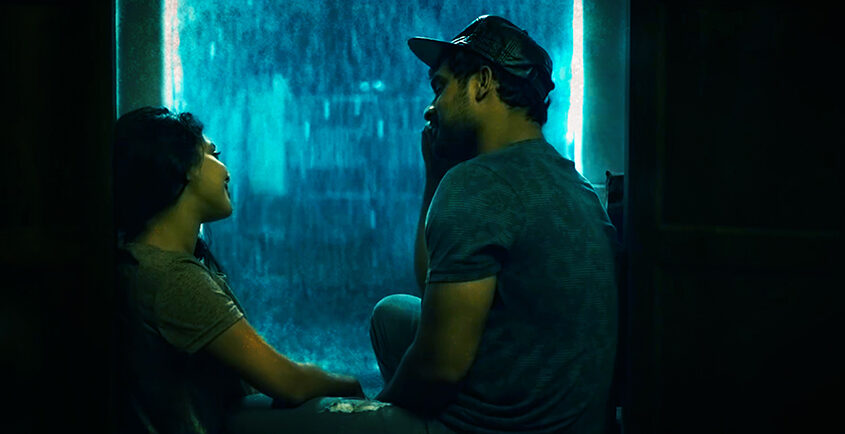 Post after a long gap! I'm sorry for being a lazy blogger. Thanks for the DMs, I'm alright 🙂 Very good actually! Just Li'l busy with my routine machine life & had soo much happening around me. I'll try to be active.. Pinky promise!
Mizhiyil – Maayanadhi. Headphones On?
1st Malayalam song post of Pattukkaaran 🙂
Back in 2017 Dec, on a sleepless night, I was diverted to the Trailer of Maayanadhi (Thanks to the YouTube algorithm & my constant Malayalam songs search). The trailer had a riveting score by Rex Vijayan, one of my favourite musicians. As soon as I watched the trailer, I decided to watch this film. It came out on Dec 22nd and I booked my tickets thereby inviting myself to a beautiful experience.
The 1st time I heard this song was at the theater. I hadn't heard it when they'd dropped it as a single. Was hooked to 'Uyirin Nadhiye..' & eventually missed this gem. It was raining on-screen with Maathan & Appu gazing at the drizzle. The song started. The prelude humming by Neha Nair was just like a warm cup of tea on a rainy morning & then came the voice of Shahabaz Aman, piercing through.. He owns a bassy, bold & soothing voice. I just cursed myself for not listening to the song before. I didn't understand the song fully, but it left some kinda happiness within me and made me long for calm, a hug, a shoulder to lean on. I yearned for all of them.
The visual of this song is equally beautiful. It overflows the art of intimacy that scatters the magic in every pixel of the screen. Visualized with Tovino Thomas & Aishwarya Lekshmi, it is one of the finest that I've ever watched. Almost 2+ years since I watched this film & whenever the song hits my play slide, I loop it atleast thrice. After this movie, Tovino & Aishwarya have been only Maathan & Appu to me. No matter how many films they do, they will forever remain Maathan & Appu. Why? Cuz I like them that way!
The Tabla throughout the song feels like a dream. Not to forget the brilliant Sarod in the interlude.
I'd quote Rumi for this song..
"Everything that is made beautiful and fair and lovely is made for the eye of one who sees."
Please listen and experience the beauty this one has for you.
"Harshamaaaaaaaaaayi..

Varshamaaaaaaaaaayi..

Vinnile.. Vennilaa.. Thoovalaai Naaam!"
(We became happiness, we became rain, we became the feathery moonbeam in the sky)
Listen. Love.
See you all soon! Hope you enjoy the song. If you came to know about this song seeing this post, write to me about how much you loved it!
Yours truly, Pattukkaaran 🙂 bye!