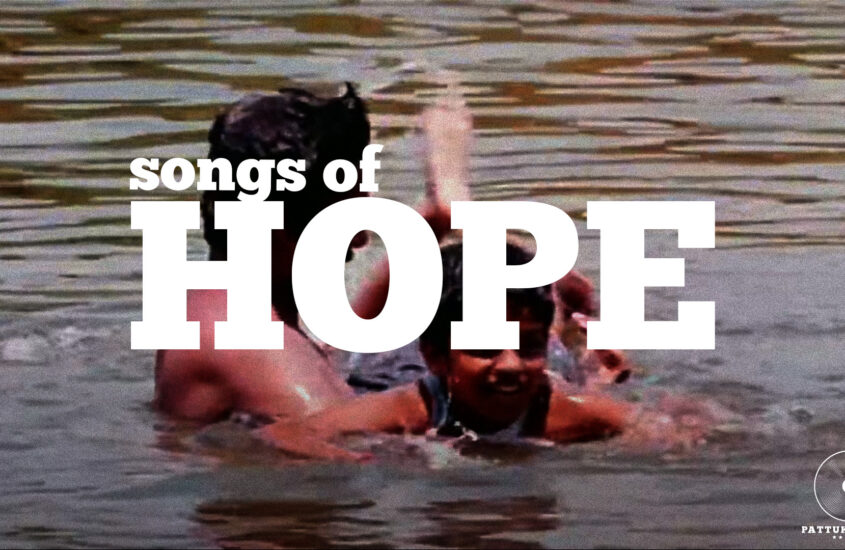 Songs Of Hope, a better tomorrow & more!
We are all going through something. We are fighting our own battles; with others and with ourselves. Family, Work, Friendship, Relationship, Physical, Mental… Something or the other keeps haunting us. Especially this lockdown has taken a major toll on our mental health. An introvert like me, often goes into my own shell when something bothers me. I'm not vocal about it. Being an avid music lover, I even go without listening to music for days. Some are vocal about their problems, they share it with their friends or family; which is good and they are blessed. Music helped me heal from my darkest days. After the major silence, when I want to face the world, I pick up Music. Music that gives me hope, that wants me to face the world. Here's a list of songs of hope. I'd not rate it, after all they are songs of hope, I don't think they need to be judged that way. So, here you go…
Oru Naalil (Pudhupettai)
My go-to song. Not just mine, to almost 70% of my friends, this one's a go-to song when they feel low. Once Selvaraghavan quoted that, Yuvan, Na Muthukumar & himself were going through a rough phase in their life and they wanted to make music for themselves to boost themselves and they ended up making "Oru Naalil..". Not many general audience are aware of this song, since it wasn't visualised in the film. But, now you know this song.. So, listen!
தீயோடு போகும் வரையில்
தீராது இந்த தனிமை..
கரை வரும் நேரம் பார்த்து
கப்பலில் காத்திருப்போம்..
எரிமலை வந்தால் கூட
ஏறி நின்று போர் தொடுப்போம்

* நா முத்துக்குமார்
Vellai Pookkal (Kannathil Muthamittal)
This song has put me to sleep during chaotic nights. The slight guitars and the minimal flute with some splendid vocals by ARR makes this song perfect.
குழந்தை விழிக்கட்டுமே..
தாயின் கத கதப்பில்..
உலகம் விடியட்டுமே
பிள்ளையின் சிறுமுக சிரிப்பில்

* வைரமுத்து
Ovvoru Pookkalume (Autograph)
It'd be a sin if I list songs of hope without this one. I'm sure, as you read the song title above, you had the image of Sneha singing the song in your mind. The impact the song had on TV Channels and Radios upon release was massive.
உளி தாங்கும் கற்கள் தானே
மண்மீது சிலையாகும்
வலி தாங்கும் உள்ளம் தானே
நிலையான சுகம் காணும்

* பா விஜய்
Merkku Karayil (Aruvi)
Not many are aware of this gem. If you know this song, if you've heard this one..I appreciate your thirst for good music. I'd have suggested this song to 20 people at the least. They loved and thanked me for suggesting the song to them. I hope you join the list too!
அடச்ச மனசு சிரிச்சு பேச
அடைக்கும் துயரம் அறண்டு மிரளும்
மஞ்சள் நிலவே மயக்கும் மதியே மயங்கி போகாதே..
மறுத்த உறவும் தயங்கி சேரும் தவிச்சு போகாதே..

* அருண் பிரபு புருஷோத்தமன்
Ilangkkaathu Veesuthey (Pithamagan)
RAJA. You need anything more to listen to this song? This song is a journey, you'll just flow with the melody.
நேத்து தனிமையில போச்சு
யாரும் துணை இல்ல..
யாரோ வழித்துணைக்கு வந்தால்
ஏதும் இணை இல்லை..
உலகத்தில் எதுவும் தனிச்சு இல்லையே
குழலில் ராகம் மலரில் வாசம் சேர்ந்தது போல!

* பழனி பாரதி
Para Para Para Pattamboochi (Katradhu Tamizh)
This melody is the water that caresses your legs when you are standing in the beach. Rahul Nambiar is an under-rated singer! Also, the 2nd interlude of this song!
எங்கோ எங்கோ ஓர் உலகம்..
உனக்காக காத்து கிடக்கும்
நிகழ்காலம் நதியை போல
மெல்ல நகர்ந்து போகுதே
நதி காயலாம்
நினைவில் உள்ள காட்சி காயுமா?

* நா முத்துக்குமார்
Pesugiren (Satham Podathey)
I know people who got over their suicidal thoughts with this song in their ears and heart. Not an easy task for someone like Neha Bhasin, who doesn't know Tamil even a bit to sing, pouring out emotion and positivity in this song.
விடியாமல் தான் ஒரு இரவேது
வடியாமல் தான் வெள்ளம் கிடையாது
வருந்தாதே வா..

* நா முத்துக்குமார்

 
Thaavi Thaavi (Dhoni)
Raja vocal this time. With simple music and lyrics, this song is like my Na Muthukumar's shoulders. This brings back fond memories of discussing lyrics with him!
கடல் அலைகள் நிரந்தரமா? அவை ஒவ்வொன்றும் புதிது
அதில் குமிழாய் உரைகளுமாய் வரும் கவலை உடைகிறது..
எந்த காற்று தீண்டும் என்றா குழல் தேடும்?
எந்த காற்று நுழைந்தாலும் புது இசை பாடும்..
நாம் வாழும் காலத்தில், அட யாரும் தனி இல்லை
உன் தனிமை தன்னை தனிமையாக்கும் துணைகள்!

* நா முத்துக்குமார்
Kadavul Thandha Azhagiya Vazhvu (Maayavi)
I don't understand the hate around DSP in Tamil fandom, okay I'm not going there. There are songs which he poured his heart into. This is one among them. God, this song!
பூமியில் பூமியில்
இன்பங்கள் எங்கும் குறையாது
வாழ்க்கையில் வாழ்க்கையில்
எனக்கொன்றும் குறைகள் கிடையாது
எது வரை வாழ்க்கை அழைக்கிறதோ
அது வரை நாமும் சென்றிடுவோம்
விடைபெறும் நேரம் வரும் போதும்
சிரிப்பினில் நன்றி சொல்லிடுவோம்

* பழனி பாரதி
Sandhosham Sandhosham (Youth)
This movie and album has a separate fan base. This song is Gold!
உள்ளம் என்பது கவலைகள் நிரப்பும்
குப்பை தொட்டி இல்லை
உள்ளம் என்பது பூந்தொட்டி ஆனால் நாளை துன்பம் இல்லை

* வைரமுத்து
Special Mentions
Vaa Vaa Nilava from Naan Mahan Alla
Sevvaanam Vetkam Kondathu from Poovellam Kettuppaar
Whatever you are going through. I hope you heal soon! Not an advice; but, it took a long time for me to realise that this life is a gift. If you are reading this, you are blessed. I really hope this playlist plays a small part in your healing process. See you soon, much love!
– Pattukkaaran