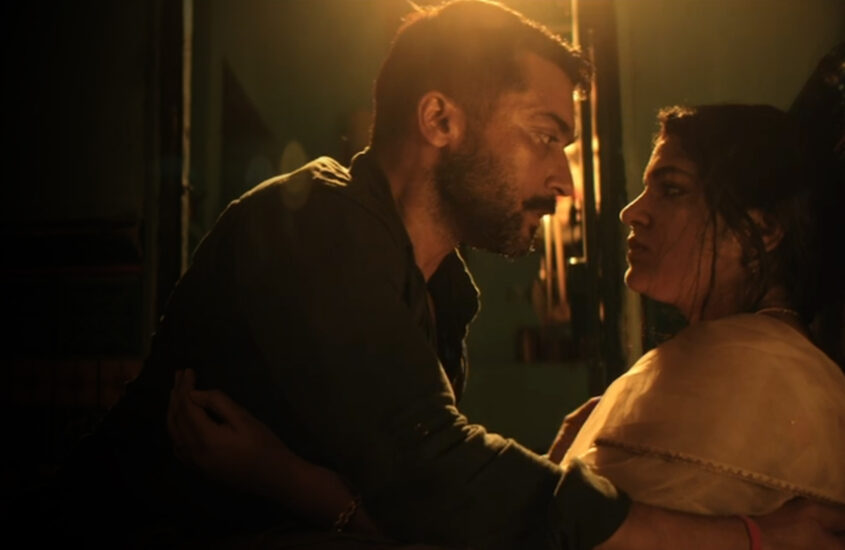 A post after months! SINCERE APOLOGIES!!
"The great marriages are partnerships. It can't be a great marriage without being a partnership." – Helen Mirren
They say, with the right partner by your side you can fight bigger battles. That sounds about right in the case of Nedumaran Rajangam, a former Air Force Captain. He fights with the bigger system to get his airline company started. Sundari, Nedumaran's wife, who is also the owner of Bommi's Bakery, stands by his side in all his ups and downs. She marries him when he literally had nothing and firmly takes his side when her mom complains about him. She is strong, independent, and loves Nedumaran to bits. But, in a heated argument, Nedumaran snaps at Sundari & she just goes away!
Now.. How does it feel when you fight and stop talking with your loved one (even if it is for a few hours)?
Empty?
Restless??
You want to fix things back asap???
That's exactly what Nedumaran feels too… This song, 'Usurey' transports us to the shoes of Nedumaran Rajangam. The lyrics by Maya Mahalingam express the emptiness of Nedumaran. The emptiness he feels when Sundari disappears after the fight.
He misses Sundari, his BIGGEST support system. Usurey sung by G V Prakash is a reprise of "Naalu Nimisham" from the same film by Krishnaraj. Not gonna judge which one weighs more! Both weigh equally. Both versions express the pain. Naalu Nimisham is toned down with strings and has the heavy vocals of Krishnaraj; whereas Usurey has the 90s Rahman'ish charm. The mild percussions throughout the song and the sarangi interlude add such beauty to this one!
Maya Mahalingam pens,
நாலு நிமிஷம் உன்ன காணாம
நீ காணாம.. என் நாடி நரம்பு சுருங்கி போனேனே! நான் போனேனே!
easily… just like that… but, wait. He gets deep with
பாழடைஞ்ச வீடா கிடக்கு என் மனசு
நீ ஓடி வந்து ஓட்டற அடிச்சு உசுர காப்பாத்து!
&
பதறா போயி சருகா ஆச்சு என் மனசு
நீ ஓட நீரா ஓடி வந்து உசுருக்கு உசுரூட்டு!!
I'd like to quote my most favorite line from this song which is
இடுப்புல வச்ச பான.. உன் மடிப்புல நிக்குதடி..
அந்த மடிப்புல வைக்கிற போதே என் மனச சிக்குதடி..
அந்த பானைக்கு கிடைச்ச மோட்சம், இந்த பாவிக்கு கிடைக்கலடி..
குல சாமிக்கு கூட கண்ணு.. கொஞ்சம் கோளாறா போச்சுதடி..
I don't want this song to disappear among Veyyon Silli & Kaattu Payale.. So, wrote this post to bring this one out to your notice!
See you soon! (Promise, I'll be more active) [Not keeping a count of this promise, guilty of it too]
Yours truly, Pattukkaaran.
Bye!