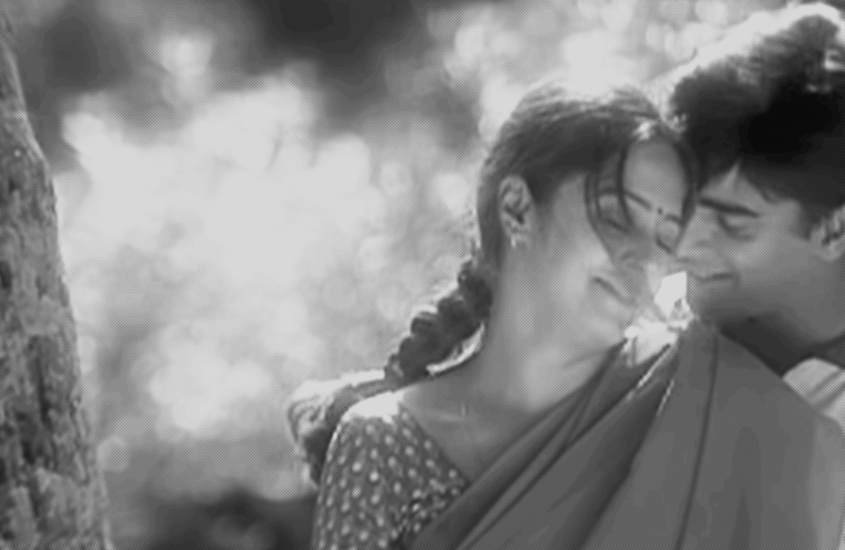 Where're your headphones? Grab'em, Play the song & proceed with reading this one!
I wonder where to start! This is one song that transcends its sweetness to me every single time I listen to it. It's almost 18 years old & I still can't figure out what makes it fresh & sweet. Timeless composition by Karthik Raja – one under-rated Genius. Many people assume that this song is composed by A R Rahman, since there's a Madras Talkies label to the film.
If you are a 90s Kid & even if you're the one with super strict parents (who never exposed you to TV/Radio/Music), then there's an 80% chance that you've listened to this song in your school days when this movie came out.
I have an extra special spot for 'Un Perai Sonnale..'. although the entire album of Dumm Dumm Dumm is one of my favourites 🙂 This one too, goes on loop whenever it's played on my player 🙈 Crazy addiction! :') 'Twas in 2007.. My high school days (to be precise), the discussions about Music and Movies predominantly happened inside classrooms. I found that this track was penned by Na Muthukumar (One more reason to "Love" this song even more). I remember Na Muthukumar quoting somewhere that Mani Ratnam once told Muthukumar that he wanted every song to be simple and hummable. I guess this piece of advice from Mani sir has actually extended the lifetime of this song to a great extent, among the audience.
கையை சுடும் என்றாலும்
தீயை தொடும் பிள்ளை போலே
உன்னையே மீண்டும் நினைக்கிறேன்!




Can you find something more beautiful than the above-quoted lines? Na Muthukumar has constructed every single line of this song with such perfection that you can quote each of its line as a stand-alone poem.
உன் பேரை சொன்னாலே
உள்நாக்கில் தித்திக்குமே போகாதே! போகாதே!!
I mean, look at this! "Uttering your name gives a sweet sensation in my uvula". I am sure only a 'பெருங்காதலன்' can come up with such poetry.
Whenever I listen to this track, I yearn for more. Unabridged sweetness. Aaaaand those God-damn strings! DAMN! I really wish Karthik Raja had got correct projects on his hands so that he would have composed more such beauties for us. Man, He deserves better! We deserve better Music too! In Rhythm amma modulation..
"Romba Nalla Composer pa Nee, Unakku Innum Konjam Nalladhu Nadakkalam.."
Okay, I'm gonna watch this movie on Prime & Rejoice the music of this beauty again. Signing off. See you all soon with another one from my "favourites" collection! 🙂
Yours truly, Pattukkaaran 🙂